EP 16: Keeping Indigenous Seeds in Kenya with Akoth Ambugo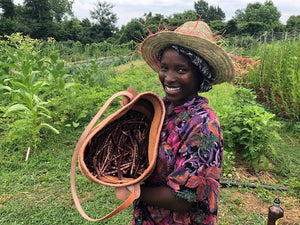 Akoth Ambugo spends part of her year back home in her family's rural villages in Kenya and part of her year in the United States as a nurse and gardener. While in the US, she is learning to keep seeds, grow nutritious food, and feed the soil.  She hopes to revive traditional indigenous crop varieties and farming practices that are more in tune with the land and the health of the people. 
She recently wrote: "This thing that we do is a return. A return to a deep and sacred knowing of wild things. That we all begin and return as seeds. This land, these hands, and these hearts all feel like a sacred alignment, weaving to-gather together. Here there is no sense of if, just is. Here I breathe in hope and beauty. This is what the seeds teach me, learning the path of patience and humility. Of fire and water in balance. Of the sweetness of my sweat and the delight of feeling my body toil for sanctuary. I eat with more awareness and gratitude. Because of the seed. The revolution has always been here and it is in the seed."
SEED STORIES TOLD IN THIS EPISODE:
MORE INFO FROM THIS EPISODE:
ABOUT:
Seeds And Their People is a radio show where we feature seed stories told by the people who truly love them. Hosted by Owen Taylor of Truelove Seeds and Chris Bolden-Newsome of Sankofa Community Farm at Bartram's Garden.
trueloveseeds.com/blogs/satpradio
FIND OWEN HERE:
FIND CHRIS HERE:
Sankofa Community Farm at Bartram's Garden
THANKS TO:
Akoth Ambugo
Cecilia Sweet-Coll
Ruth Kaaserer
---
Share this post
---
---
---
0 comment