EP. 15: Seeds of the African Diaspora with Amirah Mitchell & Sistah Seeds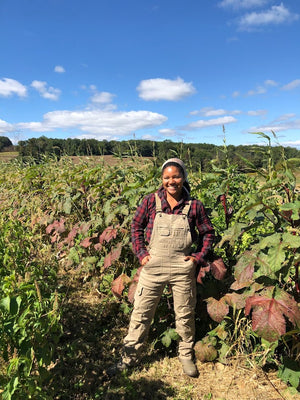 In this fifteenth episode, Amirah Mitchell of Sistah Seeds gives us a tour of the African Diasporic seed crops on her farm in Emmaus, PA. She also describes her work to preserve seeds and stories of African-American, West African, and Afro-Caribbean foodways, how she got to this point, and where she is headed. Amirah worked for four years as an apprentice and coworker at Truelove Seeds, and we are so grateful for our continued collaboration as she embarks on the next phase of her work as a farm owner, seed keeper, educator, and inspiration to so many.
AMIRAH MITCHELL, SISTAH SEEDS:
SEED STORIES TOLD IN THIS EPISODE:
MORE INFO FROM THIS EPISODE:
ABOUT:
Seeds And Their People is a radio show where we feature seed stories told by the people who truly love them. Hosted by Owen Taylor of Truelove Seeds and Chris Bolden-Newsome of Sankofa Community Farm at Bartram's Garden.
trueloveseeds.com/blogs/satpradio
FIND OWEN HERE:
FIND CHRIS HERE:
Sankofa Community Farm at Bartram's Garden
THANKS TO:
Amirah Mitchell
Cecilia Sweet-Coll
---
Share this post
---
---
---
0 comment