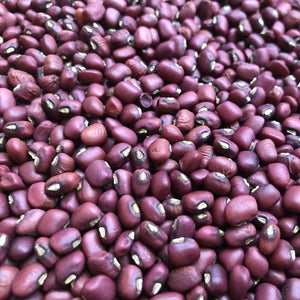 Haricot Rouge du Burkina Faso (Southern Pea)
Vigna unguiculata
Below standard germination: 42%. However, in addition there is currently 52% dormant seed so you will likely get closer to 94% to germinate by the time you plant them.
This beautiful African heirloom from Burkina Faso, West Africa laughs at the heat and poor soils, and produces plentifully in drought or wet conditions. Red seeds, a bit larger than our Sea Island Red Peas, taste great as dry beans. Alternatively, you can eat the young pods as green beans, and cook up the leaves like spinach. On top of all this, as a vigorous legume, these plants will give nitrogen back to your soils.
West Africa is where this species is most widely grown, and is likely where this species was first domesticated. From there, it has traveled the world nourishing the African diaspora and beyond.
Days to maturity: 110
Seeds per pack: 100
Germination rate: 42% on 02/13/2023 (below standard)
Planting / harvesting notes
Direct sow black-eyed peas safely after frost, any time between late May and mid-July. This is a climbing vine crop, so it needs to be planted next to a structure or trellis. Plant 1" deep with 3" spacing, either in 1 row on each side of the net trellis or in another arrangement if using a different kind of trellis, like a pole or garden sculpture. Being a legume, it does fairly well in and adds nitrogen to poor soil.
Seed keeping notes
Black-eyed peas are self-pollinating, though it is best to isolate different varieties of V. unguiculata (including black-eyed peas, southern peas, cowpeas, and long beans) at least 20 feet, if not much farther to avoid unwanted cross-pollination. Allow beans to dry fully into a brown crispy state. This is when they are ready to harvest for seed. If necessary, lay them out to dry a little longer in their pods.
Collections
This product is part of the
African Diaspora Collection
.
---
We Also Recommend