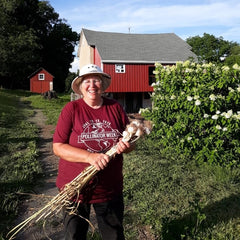 Hill Creek Farm
Hill Creek Farm is in East Coventry (Pottstown), PA. Dorene Pasekoff and Frank Desimone care for the land with an enthusiastic team that loves the outdoors, specialty produce and seeds.
Our seed production philosophy is modeled after Dorene's Pennsylvania Dutch grandfather, an itinerant carpenter who always saved seed from interesting plants, then propagated those that did well in his Western Pennsylvania garden. Like Roy Brown, we're always looking for what grows best and tastes even better in the Mid-Atlantic region.
For near-daily photos of life on a small specialty farm in Southeastern Pennsylvania, follow us on Instagram at @hillcreekfarmpa or drop us a line through our website at Hill Creek Farm – Proven Heirlooms Environmentally Grown (hillcreekfarmpa.com).
---